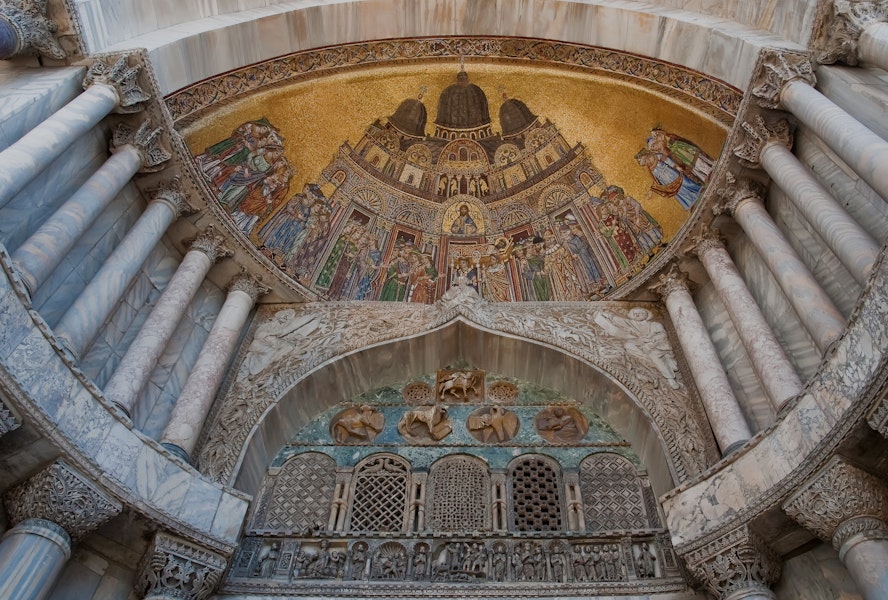 The History of St. Mark's Basilica
When drawing up the itinerary for Venice, the place people put down first is St. Mark's Basilica, the exquisite, multi-domed Byzantine cathedral which is located in St. Mark's Square or Piazza San Marco. The golden Byzantine mosaics adorning the cathedral earned it the title of "Church of Gold" or as locals call it, Chiesa d'Oro. These mosaics decorate not only the church's main entrance but also the interior of the five domes of the basilica. This colossal structure was built in the 9th century to house the remains of its namesake, the patron of Venice. Before officially becoming a cathedral in 1807, it served as the chapel of the Doge's Palace. It's historical significance and architectural brilliance combined, St. Mark's Basilica is one of Italy's most iconic displays and finest tourist attractions. 
History of St. Mark's Basilica
History is anything but boring and most historical events begin with the tale of bravado and adventure. Such is the story behind the construction of St. Mark's Basilica. The relics of St. Mark, which lay protected inside the basilica now, were smuggled out of Alexandria, Egypt by Venetian merchants in 828. Like the Trojan horse was used as a subterfuge by the Greeks to enter Troy, these heroic merchants hid the remains in a barrel of pork fat. This kidnapping came into effect when the Arab governor of Alexandria threatened to destroy the sanctuary of St. Mark to use its marbles. As expected and strategized, the customs officials didn't even inspect the barrel since pork is highly detested by Arabs. 
The original basilica, which was built inside the complex of the Doge's Palace, burned down in 928 during a revolt against the doge Pietro Candiano IV. The current structure was consecrated in 1071. While the magnificent work by both Byzantine and Italian architects is evident on the cathedral, its grandeur is accentuated by the famous four bronze horses and the Madonna Nicopeia brought to Venice from Constantinople during the Fourth Crusade (1204).
Select Your Tickets