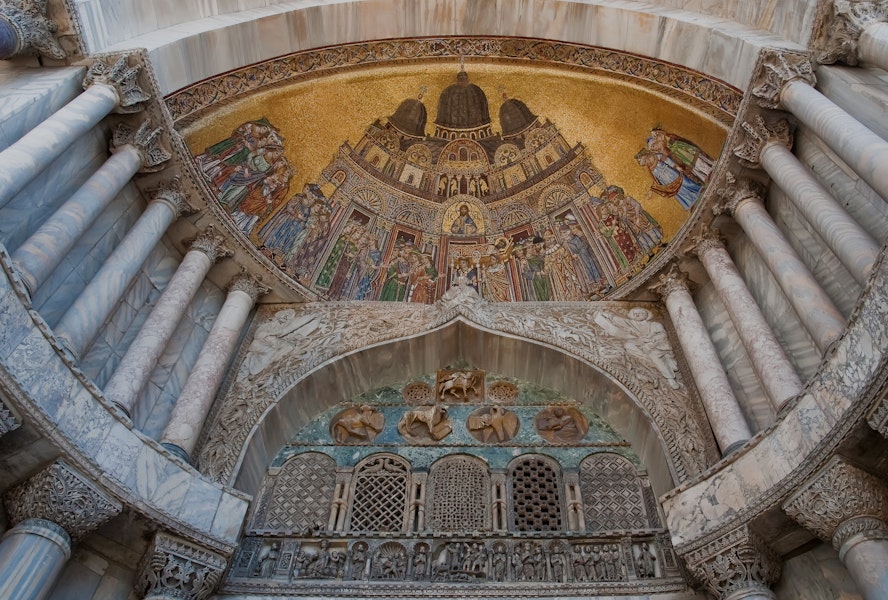 St. Mark's Basilica Opening Hours & How to get Here
Timings
All year round, St. Mark's Basilica is open Mondays through Saturdays from 9:30am until 5:00pm. 
From April 16 to October 28, on Sundays and public holidays, it remains open until 4:30pm. The time is extended to 5pm from 29 October to 15 April.
In all cases, the last admission time is 15 minutes from the closing time. 
On religious holidays, especially during Easter and Christmas, please make sure you are updated with the current timing as they are subject to change. 
Best Time to Visit
Be it the basilica's artistic and religious content or its breathtaking Byzantine architecture, this cathedral attracts people from all walks of life. Naturally, the desire to experience this thing of beauty in solitude is quite an impossible feat. 
During the summer months, you will see more sweaty faces than mosaics. So we suggest you plan your trip around December to January. The queue will be short and if you can make it between 11:30 to 12:30, you can see the mosaics in perfect light.
If you are visiting during summer, make sure you reach the basilica either early in the morning, during lunch hours, or just before it closes. An hour-long wait is expected, so brace yourselves and carry the essentials — water, hat, fan — to keep yourself comfortable.
It's best to visit on weekdays. If you do end up choosing the weekends or holidays, be sure to check the timings.
Getting There
To reach St. Mark's Basilica, you can hop on a vaporetto, the boats that run the transportation across Venice. If you are going from Piazzale Roma, which is situated at the end of the Ponte della Libertà, it will take you about 20-30 minutes to reach the San Marco or San Zaccaria stops. If your starting point is the train station (Santa Lucia), you will reach in 25 minutes.
Select Your Tickets