When in Venice, soak in the city's culture, vibe, and style at Piazza San Marco or Saint Mark's Square. It is Venice's only square with the title of "piazza" (the rest are called "campi") and has been called the "drawing room of Europe" by Napoleon. It hosts some of the top attractions of Venice such as St Mark's Basilica, the Doge's Palace, the Museo Correr, the Campanile (the Basilica's Bell Tower), and the Torre dell'Orologio (St. Mark's Clock Tower). If you are visiting during summer, you can go for an evening walk and spend time at one of the renowned cafes, listening to the talented musicians who play there.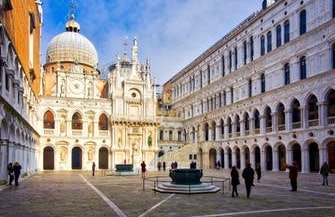 Doge's Palace
A beautiful Gothic structure facing the Venetian lagoon, the Doge's Palace (Palazzo Ducale) stands adjacent to St. Mark's Basilica. Unlike the riot of domes, arches, and sculptures of its neighbor, the Doge's Palace exhibits an airy design and soft colors. As you step inside, you are greeted by the myriad paintings by great artists, such as Bellini, Carpaccio, Veronese, and Titian. Sansovino's golden stairway of Scala d'Oro will take your breath away and be prepared to be mesmerized by the Sala del Maggior Consiglio and its monumental oil painting by Tintoretto.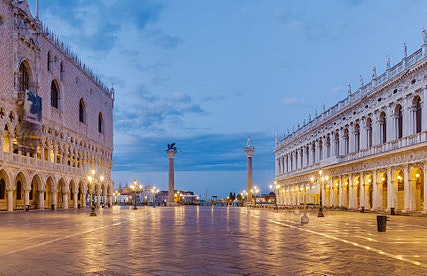 Piazzetta
Located between the Doge's Palace and the Library, the Piazzetta (little piazza) San Marco harbors two famous columns made of marble and granite, Colonna di Marco (attributed to St. Mark) and Colonna di Teodorothe (pays homage to St. Teodoro of Amasea). The latter was the first patron saint of Venice until he was replaced by St. Mark. These columns served as the official gateway to the city in the past. The Piazzetta also has a bloodied past as until the mid-eighteenth century, public executions took place between the two columns.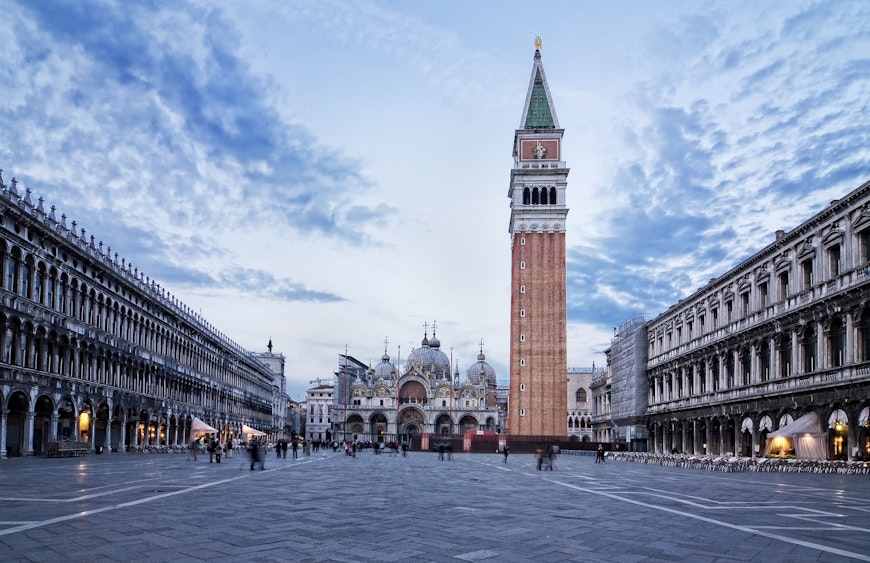 St. Mark's Clock Tower
The Torre dell'Orologio (Clock Tower) has a Renaissance-style top balcony, where two bronze figures (given their dark patina) designated as Moors strike the bell hourly. A relief of the winged lion of St. Mark stands on an open book below the Moors, and a statue of the Virgin Mary stands one level down, above the massive clock face. During Ascension week and Epiphany, statues of the four Magi emerge from the clock tower hourly and are presided over by an angel that raises a trumpet in recognition of them.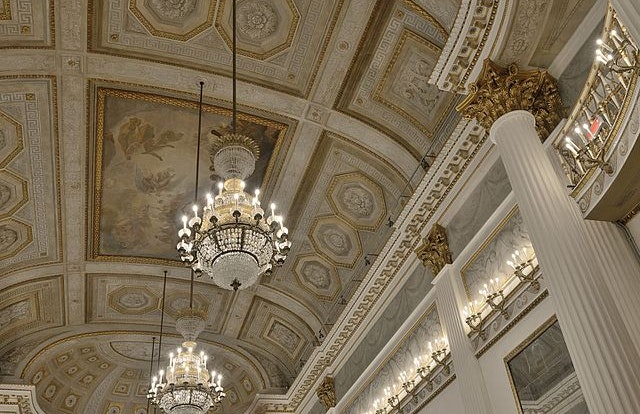 Museo Correr
Museo Correr was named after Venetian aristocrat Teodoro Correr, who bequeathed many of his items, such as paintings, coins, copper plates, seals, and classical antiquities, to this museum. When you visit the museum, whose admission is included with that of the Doge's Palace, don't miss the marble sculptures by Antonio Canova and the drawing of the Venetian cityscape through the centuries. One of the eleven civic museums in Venice, Museo Correr is located behind the shops that line the Procuratie Nuove.
Select Your Tickets