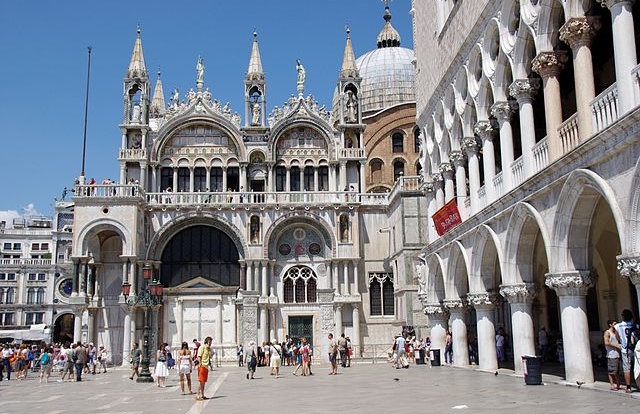 North and South Facade
The three facades of St. Mark's Basilica — North, South, and West — open out around the lower body of the basilica. The north facade, overlooking Piazzetta dei Leoncini, includes the famous Porta dei Fiori or the Door of Flowers, a 13th-century relief of Nativity.
The south facade, which overlooks the Grand Canal, has two elaborately decorated pillars in front of it called the Pilastri Acritani. On the corner of this facade are the porphyry group of the Tetrarchs and the truncated porphyry column, Pietra del Bando.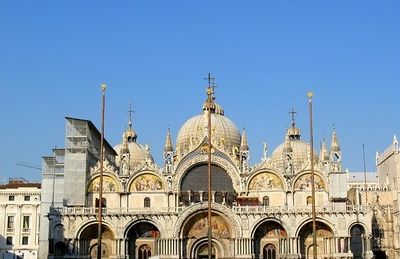 Exterior
The exterior of the west facade of St. Mark's Basilica is divided into three main segments — the lower segment, the upper segment, and the domes. In the lower register, there are five arched portals, enveloped by polychrome marble columns, which open into the narthex through large bronze doors. The upper level is laid with mosaics depicting the Life of Christ and the one above the main portal is the gilded mosaic known as "The Last Judgment". The lunettes of the lateral portals are filled with stories of St. Mark's relics. Above the large central window is the Winged Lion, the official symbol of the Venetian Republic.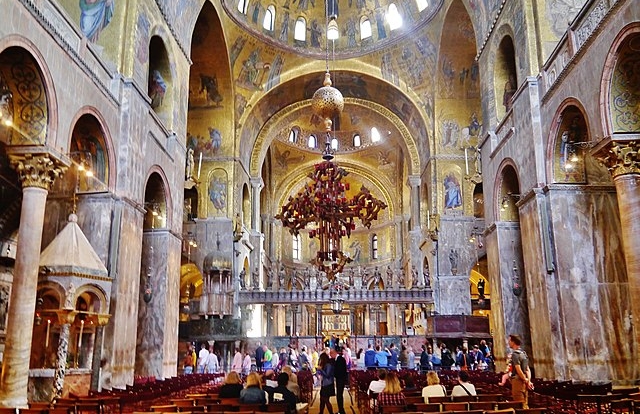 Interior
Created over a period of 800 years, there are more than 8000 square meters of mosaics, mostly of gold, inside St. Mark's Basilica. The gold background, with restricted light, not only creates an image the arrests the onlookers' senses but is also embellished by a rich iconography of Christian art. The basilica is laid out in a Greek cross design and each arm is divided into three naves. The mosaics, combined with the cathedral's shape, reflect the Byzantine style, even though the interior is an amalgamation of a variety of architectural styles, from classical to the 19th century.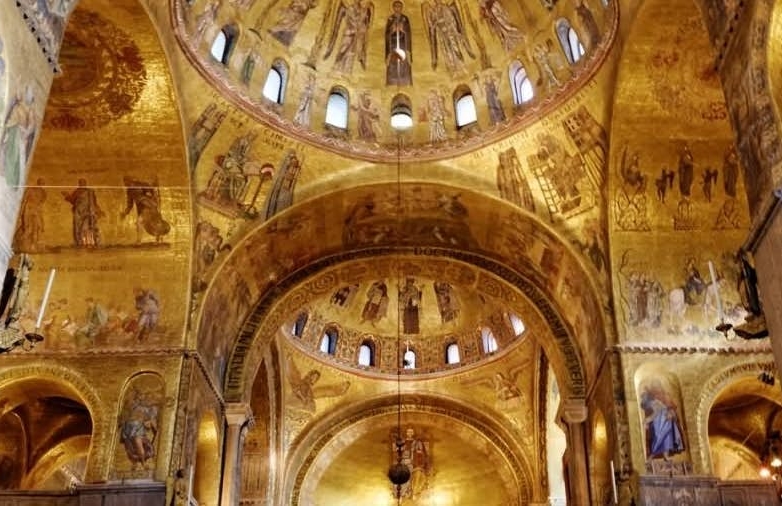 Dome
Each of the five domes, erected at the intersection and over the arms of the Greek cross, is almost 13 meters in diameter and has 16 windows. The interior of the domes is covered in gold mosaic, dating from between 1160 and 1200. The central dome depicts the ascension of Christ into heaven following his resurrection. Although the iconography of the dome is partially influenced by Western sources, the dominant one is clearly Byzantine, signifying Venice's powerful, profitable relationship with the Eastern Roman Empire.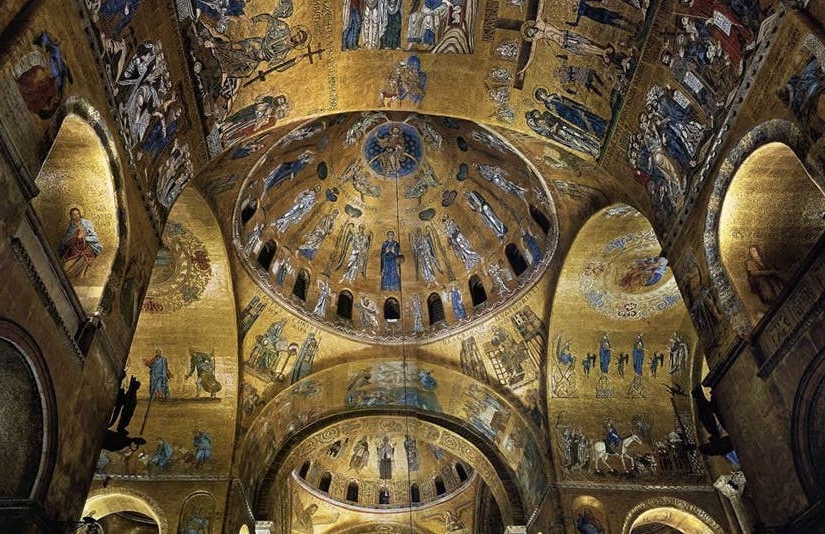 Transept Chapels
Transept Chapels are often dedicated to a particular saint. In case of the St. Mark's Basilica, there are multiple chapels dedicated to the Madonna and other saints. They are located in the short arms that extend at either side of the main dome. There are 12th-century mosaics depicting the life of St. John in the Cappella di San Giovanni, above the north transept. The altar in Cappella della Madonna Nicopeia, also on the north transept, features the Byzantine icon of the Madonna Nicopeia. Cappella di San Clemente, formerly known as Doge's chapel, is in the south transept.
Select Your Tickets